We've done it: we've finished our training at La Fresque du Climat ! At the beginning of the summer, all the LittleBig Connection teams could come together and participate in this workshop from around the world. The workshop aims to educate people about the key mechanisms of global warming. For three days, no less than 200 people almost discovered the causes and consequences of climate change simultaneously. But first, what is La Fresque du Climat? What did our LittleBiggers learn from it? And how is it carried out? Everything is explained right here!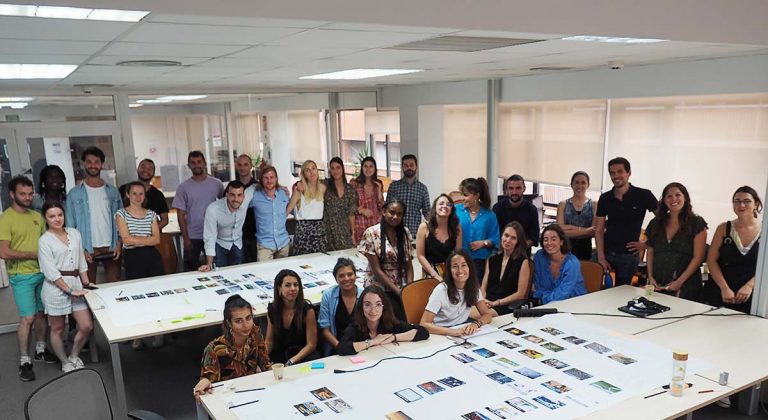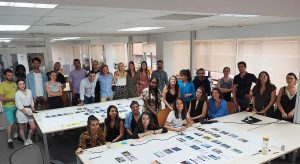 A small mural for big issues
It all starts with a simple desire: to make everyone understand the reality of climate change. To meet this ambitious objective, the non-profit organisation La Fresque du Climat created in 2018 an educational, effective, and accessible tool: a three-hour workshop capable of educating and raising awareness among all audiences. And it works! 500,000 people from around the world have now followed the Climate Mural. And it's far from over: the goal is to reach 1 million people by the end of the year.
The magic recipe for this success comes down to a few things: a simple and inexpensive game to set up, easy to understand and very fun. In a classroom setting, it requires nothing more than a space, paper, and pencils. If the participants can't meet physically, it can be set up simply using collaborative software (Mural).
And in practice? Teams of 4 to 8 people receive cards symbolising climate change elements. To recreate the cause-and-effect links of this phenomenon, the participants discuss them,  place them but also define their links. A facilitator supervises the whole process to ensure good communication between members and (above all!) to provide additional explanations. Because sometimes, we must admit, the subjects are pretty technical…
At the end of this first hour, it's time to be creative. You get to make the Mural your own, decorate it and take it onboard. Yes, it's a rather intense exercise because it requires a lot of thinking and is based on severe and complex facts, so some creative time is nice!
Then there's a short feedback period during which everyone shares what they have learned. And after all that, we do the big debrief! This is a time for sharing feelings and finding solutions together. This is the time to stop thinking in the short term and look ahead to future generations. An entire programme!
Feedback from the LittleBiggers that took part
But what did our LittleBiggers think of the workshop? After giving the mic to some of them, here's a selection of testimonies:
"It allows us to see the bigger picture. I was able to understand the impact of our daily actions and also that each thing begets another. However, I don't think I'll get more involved in this cause in the short term.
"I found it interesting to approach the subject in a participatory way. Appropriating the maps and putting them together in a mural makes it an active process and helps us understand the issues much better. It's very educational without being too simplistic.
"You learn a lot; we're not dealing with surface information. On the contrary, you learn complex mechanisms with a very technical vocabulary. In the end, you feel more knowledgeable about the subject.
"The facilitators gave us time to think about the topics. We were able to have honest discussions, which was quite interesting. It was an excellent opportunity to discuss an issue that concerns us all with people you don't know personally.
"I didn't find the workshop very optimistic. The more you go through the exercise, the more complex, dark, and aggressive it becomes. Of course, it's scientific, but it's still depressing. In the end, the solutions seem futile. I would have liked to at least end on a more positive note.
"There's a time for providing solutions at the end, but they seem futile compared to what we've learned just before. The proposed actions seem to be in vain, and it's a bit discouraging…"
Our tips for a successful Fresk
Several solutions exist to compensate for this decline in morale (Phew!)
Providing a Commitment Day at the end of the Mural allows participants to use their energy and motivation practically. For example, many team members wanted to take action after an awareness-raising event and would have appreciated an initiative. And what better time to use all the positive motivation from the workshop?
Organising a conference with one or more actors in favour of the ecological transition can also open up new ways of thinking and give a little hope. You can invite the inventor of a solution to an environmental problem, a scientist specialising in the subject, a volunteer in an association, etc.
Allow employees to propose company-wide solutions. While every consumer has power, the company also has a significant impact. Acting on this scale has a real impact that your employees will likely appreciate after finishing their workshop. So don't hesitate to collect suggestions from everyone to set up impactful actions.
Putting the Mural in a more global engagement process. At LittleBig Connection, this workshop supported the launch of our new strategic plan around Sustainability. The day before, we had presented our ambition on this subject and the means put in place (an impact department and committees of volunteer employees). The aim was to show that the Mural is a 'trigger' for a more long-term transformation project.
How LittleBiggers put the Climate Mural in our offices around the world
Some of us have been able to organise and run the Climate Mural. In this third Positive Impact post, we go behind the scenes of how these workshops were set up. And we'd instead tell you right now: it's (even) more straightforward than it looks.
1. Finding facilitators
When you say training, you say facilitator. Rather than looking for external people, we decided to mobilise our LittleBiggers. We recommend this option, which gives teams a sense of responsibility and shows them that they can be the actors of change.
But how do you become a facilitator? First of all, you need to have participated in a Mural! Kind of obvious but worth remembering. If the project already convinces you like this first experience and you of launching your Murals, it's pretty easy to get started. Go to the official La Fresque du Climat website link and register. The process is quick and easy, intuitive, and gives you access to the training course anywhere in France or remotely.  You will then follow a 3-hour online or face-to-face course and apply your new knowledge to ensure you master the environmental topics discussed in the workshop.
2. Organise a session
So, you're finally starting to organise your first Mural? Don't panic! Getting organised is simple, and the NGO provides everything you need to be operational on D-Day, starting with a PDF with the answers. Although the expertise comes with the workshops, understanding the cards is a great start. And above all, trust yourself.
First, you'll have to decide whether you are "muraling" face-to-face or online. Both have their advantages and disadvantages… but between us, the experience is often more interesting when we participate in creating a Mural together in the same room. In any case, whatever you choose, the principle is the same.
If the workshop is face-to-face, provide enough space for a large sheet of paper. Keep in mind that all the cards will need to be placed there and that people should be able to move around. Once everyone is settled, your role will be to :
Hand out the cards (of course), sticky notes and pencils
Explain the (simple) rules
To guide the participants in their thinking process (after giving them some time, of course)
Delivering the workshop milestones (time for reflection, creativity, feedback, debriefing)
Collect the players' feelings and thoughts (this is important!)
Note the number of participants listed on the official website (also very important!)
If you conduct a video conference workshop, the Mural will be represented via an online whiteboard on which everyone has the right to take action (move cards, draw arrows, etc.). The main disadvantage is that participants may feel less involved from a distance, and therefore participation may be less active.
And there you have it; you are a seasoned facilitator!
3. Dealing with people's personalities and reactions
During the training of Mural facilitators, we learn that there are different participant personas. Spoiler alert: some are insensitive to climate issues and will not leave the workshop with huge revelations. They stay in denial but don't listen, disrupting the game. Others, on the other hand, maybe caught off guard by the Climate Mural.
In any case, the aim of this exercise is not to make people feel guilty or to influence their thinking, but on the contrary, to inform them by basing themselves as much as possible on facts to raise awareness about climate change: more data and less drama.
To support players in becoming more aware, the workshop includes a moment to expose the emotional curve caused by the realisation process. First, there is denial, which gives way to sadness, and then there is acceptance, which leads to action. And that's what this workshop is all about: getting everyone to take action once they are better informed because we can all be impact superheroes.
That's our feedback! We hope we have inspired you to join the ranks. Whether within your company, with your family or with friends, do not hesitate to play and share the Climate Mural. We're counting on you to increase the number of initiated! As for us, we'll see you next month for more impact!